Pris: 2737 SEK exkl. moms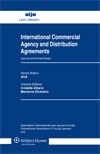 This book provides detailed information on legislation, regulation, and case law in seventeen national jurisdictions on agency, exclusive distribution, and franchising. The case law clearly exposes the issues from which disputes arise – and the financial consequences of those disputes – and the practical discussion includes sample clauses designed to anticipate those issues and avoid the pitfalls to which they often lead. For twelve EU Member States plus Switzerland and Turkey, as well as China, India, and Argentina – all countries in which foreign direct investment is a major component of the economy – local experts provide detailed information on specific applicable law, major current case law, drafting guidance with specific clauses, and official English versions of relevant primary material.

The enormous day-to-day usefulness of this book will be self-evident to lawyers negotiating international commercial distribution agreements. Legal scholars as well will welcome its comparative study of applicable law on commercial contracts in a wide variety of global jurisdictions.