Författare:
Nazzini Renato
Titel:
The Foundations of European Union Competition Law � The Objective and Principles of Article 102
Utgivningsår:
2011
Omfång:
435 sid.
Förlag:
Oxford University Press
ISBN:
9780199226153
Produkttyp:
Inbunden
Ämnesord:
Marknadsrätt , EU-rätt

---
Pris: 826 SEK exkl. moms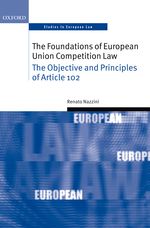 Article 82 of the EC Treaty prohibits the abuse of a dominant position as incompatible with the common market. Its application in practice has been wide-ranging with goals as diverse as the preservation of an undistorted competitive process, the protection of economic freedom, the maximisation of consumer welfare, total welfare, or economic efficiency all cited as possible or desirable objectives. These conflicting aims have raised complex, conceptual questions such as how a dominant position should be defined, and how abuses can be assessed.

This book addresses the conceptual questions underlying the test to be applied under Article 82 in light of the objectives of EU competition law. Adopting a comparative and interdisciplinary approach, the book covers all the main issues relating to Article 82, including the definition of dominance, the taxonomy of abuses, and the criteria for the assessment of individual abusive practices. It provides an in-depth doctrinal and normative commentary of the case law with the aim of establishing an intellectually robust and practically workable analytical framework for abuse of dominance.

Readership : Academics and postgraduate students, Practitioners (both lawyers and economists), competition officials, and policy makers.