Pris: 821 SEK exkl. moms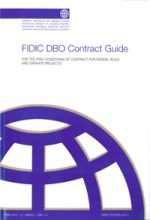 The purpose of this guide is to provide users with some commentary by the drafting committee as to their thoughts and intentions when preparing the document.

The DBO form of contract is based on the same structure and layout as the earlier (1999) documents published by FIDIC, with General Conditions, Particular Conditions and a variety of Sample Forms. It is based on a 20-clause layout and, where appropriate, it uses the same terminology and same definitions as are found in the 1999 documents. However, the documents contains a number of improvements and innovations not found in the earlier documents which make the document more user-friendly and more aligned to the requirements of today's construction industry.