Författare:
Bainbridge David I.
Titel:
Information Technology and Intellectual Property Law
Upplaga:
6 uppl.
Utgivningsår:
2014
Omfång:
660 sid.
Förlag:
Bloomsbury Professional
ISBN:
9781780431246
Typ av verk:
Kommentar
Ämnesord:
Immaterialrätt , IT-rätt

---
Pris: 1610 SEK exkl. moms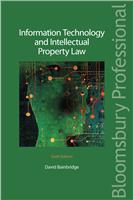 This book offers up-to-date coverage and analysis of the intellectual property laws applicable to all forms of computer software. Covering copyright, database rights, patents, trade marks, design rights and the law of confidence it will provide coverage of IP laws in the UK as well as EU Directives and European patents.

The scope of this edition has been widened due to the numerous cases before the Court of Justice for the European Union (CJEU) recently involving the use of trade marks on the Internet such as Interflora v Marks & Spencer, Google v Louis Vuitton and Portakabin v Primakabin.

It also includes developments surrounding ISPs (Internet Service Providers) such as injunctions against ISPs both in the UK and before the Court of Justice of the European Union, and coverage of the Digital Economy Act provisions.

Includes the following case law:
•SAS v World Programming (CJEU) - first major case of great significance to the software industry on the scope of the Directive on the legal protection of computer;
•Football Dataco v Stan James on copyright in databases - CJEU March 2012;
•Enlarged Board of EPO on President's reference on computer-implemented inventions;
•Football Association v QC Leisure (online services and competition).