Författare:
Schmauch Magnus
Titel:
EU Law on State Aid to Airlines � Law, Economics and Policy
Utgivningsår:
2012
Omfång:
430 sid.
Förlag:
Lexxion
ISBN:
9783869652108
Produkttyp:
Inbunden
Ämnesord:
Marknadsrätt , EU-rätt , Ekonomi

---
Pris: 1125 SEK exkl. moms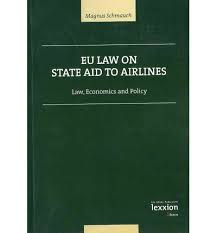 State intervention in air transport is omnipresent. Airlines, in particular, are major beneficiaries of State aid. This book provides a comprehensive analysis of the law regulating State aids to airlines, which includes sections on Articles 107 TFEU and 108 TFEU as well as an overview of legal issues paused by on air transport and competition in the EU, with a special focus on deregulation and its consequences. EU Law on State Aid to Airlines follows a multi-disciplinary approach by relying on the fundamental concepts of economics and policy. This approach allows grasping the wider implications of this sector's issues for the field of State Aid, especially in the
light of the 'more economic approach' and the 'balancing test'.

Furthermore, additional perspective is given on the law of State aid to airlines through comparative analyses of regulations in the United States and Switzerland and outlooks on international relations. Finally, the book presents a number of recent Commission decisions with a dramatic importance for the field air transport, such as the opening of formal investigation procedures regarding alleged State aid to low-cost airlines operating from regional airports all over Europe.