Pris: 2429 SEK exkl. moms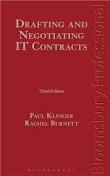 This book includes:
A guide to the common legal issues in negotiating and drafting contracts;
An explanation of the structure and content of a commercial contract;
Good and bad practice in drafting (and in using clear, modern English);
The meaning of and use of commonly-used words, phrases and legal jargon;
The formalities for creating and signing contracts;
Commentary on the use of electronic drafting and electronic signatures;
Guidance on the interpretation of contracts.

The Third Edition has been fully updated to include expanded commentary and more practical information on contract drafting, such as the use of numbers, formulas, equations, tables and pronouns.

There are new chapters on:
How to check and what to check for in a contract to eliminate errors (including checklists of what to check for in different situations);
Drafting and legal issues that businesses need to take into account when contracting with consumers;
Advanced drafting techniques.

Content:
Chapter 1 Legal Formalities for a Binding Contract;
Chapter 2 The Structure and Format of the Contract;
Chapter 3 Contract Drafting Techniques;
Chapter 4 Advanced Drafting Techniques;
Chapter 5 Basic Commercial/Legal Issues Affecting Contract Drafting;
Chapter 6 Interpretation of Contracts by the Courts—Implications for the Drafter/Negotiator;
Chapter 7 Drafting Consumer Contracts;
Chapter 8 Legal Terms and Lawyers' Jargon;
Chapter 9 Techniques for checking contracts before signing them;
Chapter 10 Drafting, exchanging and protecting documents electronically.