Författare:
Teece David J
Titel:
Competing Through Innovation � Technology Strategy and Antitrust Policies
Utgivningsår:
2013
Omfång:
484 sid.
Förlag:
Edward Elgar
ISBN:
9781847206718
Produkttyp:
Inbunden
Ämnesord:
Marknadsrätt , Immaterialrätt

---
Pris: 1431 SEK exkl. moms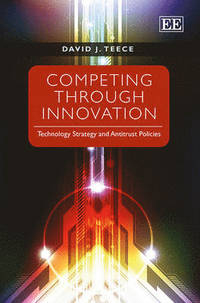 This cohesive collection brings together David J. Teece's most important work on the nexus of innovation and competition policy. He was one of the first to flag the importance of innovation issues to competition policy 25 years ago. He has also pioneered the application of economic and organizational principles to issues in the management of innovation.

Throughout these essays, Professor Teece shows how technological advances, the advent of the Internet and other recent shifts in the global business landscape have placed businesses in a radically altered situation from even just a few decades ago. He clearly elucidates the need for both businesses and policymakers to adapt to this rapidly evolving landscape by embracing and fostering next-generation competition policies. Topics discussed include antitrust policy, technology strategies, competition policy, market power and intellectual property issues.

Students and professors of business and management, innovation studies, intellectual property and competition lawyers will find this volume a critical asset to their work. Policymakers and regulators will also benefit immensely from this lucid and comprehensive collection.