Pris: 1427 SEK exkl. moms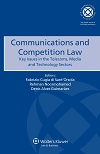 This book sheds clear light on the current international contours of competition law vis-à-vis communications, and provides deeply informed insight and lessons to be learned from experiences in several countries. With a primary focus on Brazil, which alone in the world to date has legislated what can be called an Internet Charter – the Net Mundial statement – the book discusses significant legislative, regulatory, and judicial developments in the United States, the European Union, Canada, China, Chile, Singapore, and elsewhere. With 31 contributions, it is based on debates triggered by two gatherings of regulatory lawyers of Communications and Competition IBA Committees, held in Rio de Janeiro in 2013 and in Prague in 2014.

Among the issues and topics covered are the following:

-how regulatory changes reflect consolidation and convergence trends;
-data aggregation and consumer profiling;
-security threats of mass digital surveillance;
-search engine optimization;
-geolocalization services;
-cloud computing;
-mobile e-commerce;
-Internet advertising;
-the human right to be forgotten;
-compulsory licensing of standards;
-strategic role of open sources;
-mobile banking and mobile payment;
-standard-essential patent enforcement; and
-regulatory policy.

Lawyers and officials struggling to fit communications matters into a competition law framework will greatly appreciate this book and the global awareness and guidance it imparts. It is sure to be read closely and used by both practitioners and policymakers in the years to come.