Pris: 2213 SEK exkl. moms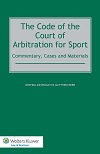 The Code of the Court of Arbitration for Sport: Commentary, Cases and Materials is a comprehensive exploration of the provisions of the Court of Arbitration for Sport (CAS). Providing detailed analysis of the CAS Rules, this is an indispensable work of reference for all sports law practitioners. Each provision is viewed within the larger context of international arbitration, in Switzerland, and procedural solutions are suggested which are transposable to international arbitration generally.

How will this benefit your work?

-Reduce research time. Article- by- article analysis is supplemented by relevant doctrine, case law and documents and material from internal CAS practice, allowing you to quickly find the information you need, from one resource.
-Quickly gain understanding. All significant cases — about contractual issues, eligibility and disciplinary matters, governance issues and other types of disputes typically arising in the world of sport — are treated in depth as they arise under the relevant provisions.
-Fully understand the work of the CAS. Graphs and charts are used to explain practice and sample documents are included to show the exact procedure that is followed.

The Code of the Court of Arbitration for Sport: Commentary, Cases and Materials is an essential resource for anyone working in sports law, with guidance given on the following:

-how to validly establish CAS jurisdiction
-how to draft valid requests for arbitration and statements of appeal
-what is the law applicable to CAS cases
-what type of provisional measures can be ordered by CAS
-how are ordinary and appeals arbitration procedures conducted
-latest jurisprudence of the Swiss Federal Tribunal in relation to CAS cases
-practical matters, costs-related issues, including recourse to legal aid.