Pris: 4027 SEK exkl. moms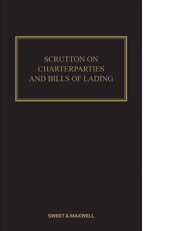 This is the leading statement of the principles behind charterparties and bills of lading, which is the area of law covering parties to the hire and chartering of ships, and the carriage of goods at least partially by sea.
First published in 1886, Scrutton has provided a first port of call for research when drafting contracts or dealing with disputes for generations.

NEW TO THIS EDITION

Case law covering key topics, including:
- The Pacific Champ [2012] (the formation of charterparties)
- The Cenk Kaptanoglu [2012] (duress)
- The Kyla [2012] (frustration)
Finmoon v Baltic Reefers [2012], The Saga Explorer [2012], The Erin Schulte [2013] (bills of lading)
- The DC Merwestone [2013] (perils of the sea)
- The Falkonera [2013], The Dolphina [2012] (discharge and delivery of cargo)
- The Wren [2011], The Aquafaith [2012], The Kos [2012], The Western Moscow [2012], The Astra [2013] (time charters)
- The Bulk Chile [2012] (liens)
- The Glory Wealth [2013] EWHC 3153 (Comm) and The New Flamenco [2014] EWHC 1547 (Comm) - two important cases concerning the proper approach to the assessment of damages - the former concerning the application of the "compensatory principle" and the latter addressing the difficult question which often arises as to what, if any credit, should be given for a benefit received by the innocent party following the wrongdoer's breach
- The Athena [2013] EWCA Civ 1273 - concerning the scope and effect of a net loss of time clause in a time charter
- The Crudesky [2013] EWCA Civ 905 and The Global Santosh [2014] EWCA Civ 403 - two different cases considering whether third parties (a seller of goods in the context of a voyage charter and a receiver in the context of a time charter) might be regarded as the agent of the charterer for certain purposes
- The Superior Pescadores [2014] EWHC 971 (Comm) - concerning the scope and effect of a clause paramount
- The Falkonera [2014] EWCA Civ 713 - dealing with the important topic of ship-to-ship transfers
- The Erin Schulte [2014] EWCA Civ 1382 - concerning the interpretation of the Carriage of Goods by Sea Act 1992 and, in particular, the meaning of the expression "completion, by delivery of the bill, of any endorsement of the bill" in section 5(2)(b) of the Act.