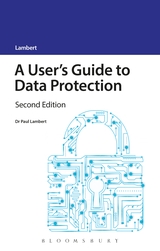 A User's Guide to Data Protection, 2nd edition covers all the compliance issues that organisations need to be aware of in order to successfully comply with the UK data protection rules and regulations, along with a full assessment of the EU Data Protection Regulations and their impact on UK practice.

Since the previous edition there have been a number of significant developments such as:

-The new UK and EU data protection regime
-New requirements of the General Data Protection Regulation (GDPR)
-New rights, principles and definition
-Increasing uses, data collections and business models surrounding personal data
-New technologies
-Enhanced rights and obligations
-Significant fines as a percentage of worldwide turnover
-Significant case law including: Google Spain 'Right to be Forgotten' case; Schrems EU-US Safe Harbour; DRI; Vidal-Hall; Tamiz; Mosley; Weltimmo; Barbulescu; Snowden issues; etc
-Increasing litigation and cases regarding data protection and damages
-Classes actions and representative bodies
-Increasing levels of fines from the ICO and in an increasing variety of breach circumstances with directors as well as companies being fined by ICO
-Individuals, including private investigators, being prosecuted for DP offences
-Advertising and marketing
-The new tools of compliance and risk reduction, risk assessments, consultations, codes of conduct, certification,
-Data breaches and data loss
-Security and reactions to data breach
-Employee monitoring
-Apps
-Data portability
-Right to be Forgotten
-Notification of security breaches
-Privacy by Design/Data Protection by Design (PbD/DPbD)

A User's Guide to Data Protection, 2nd edition, is a practical and comprehensive analysis of current law and procedure which is presented in a clear and accessible reference style.

Part 1 How to Comply with the Data Protection Regime
Chapter 1 Data Protection
Chapter 2 Sources of Data Protection Law
Chapter 3 Definitions
Chapter 4 History and EU Data Protection
Chapter 5 Data Protection Principles
Chapter 6 Ordinary Personal Data Legitimate Processing Conditions
Chapter 7 Processing Pre-Conditions: DPA Prior Information Requirements
Chapter 8 Exemptions
Chapter 9 Individual Data Subject Rights
Chapter 10 Notification and Registration
Chapter 11 Time Limits for Compliance
Chapter 12 Enforcement and Penalties for Non-Compliance
Chapter 13 Security of Personal Data
Chapter 14 Outsourcing and Data Processors
Part 2 Inward Facing Organisational DP Obligations
Chapter 15 Processing Employee Personal Data
Chapter 16 Employee Data Protection Rights
Chapter 17 Employee Considerations
Chapter 18 Employee Monitoring Issues
Part 3 Outward Facing Organisational DP Obligations
Chapter 19 Outward Facing Issues
Chapter 20 Data Protection and Privacy by Design
Chapter 21 Cookies and Electronic Communications
Chapter 22 Enforcement Powers
Chapter 23 Trans Border Data Flows/Transfers of Personal Data
Chapter 24 ePrivacy and Electronic Communications
Chapter 25 Electronic Direct Marketing and Spam
Part 4 New EU Regime
Chapter 26 New Regime
Part 5 Particular Issues
Chapter 27 Data Breach
Chapter 28 Data Protection Impact Assessment
Chapter 29 Social Media
Chapter 30 Jurisdiction and Social Media
Chapter 31 Leveson, the Press and Data Protection
Chapter 32 Data Protection Officer
Chapter 33 Other Data Protection Issues
Appendices
Reference Links;
Legislative Links;
Forms and Document Links;
Complying with Data Protection;
Data Protection Principles;
Ordinary Personal Data Legitimate Processing Conditions;
Sensitive Personal Data Legitimate Processing Conditions;
Access Request Flows;
Objections to Marketing;
Audit Checklist;
Procedures.