Författare:
Parr Nigel , Hughes Matthew
Titel:
UK Merger Control � Law & Practice
Upplaga:
3 uppl.
Utgivningsår:
2016
Omfång:
1043 sid.
Förlag:
Sweet & Maxwell
ISBN:
9780414034167
Produkttyp:
Inbunden
Ämnesord:
Marknadsrätt

---
Pris: 4109 SEK exkl. moms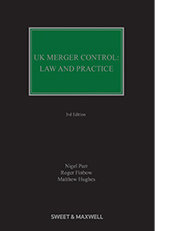 UK Merger Control: Law and Practice, 3rd edition, is the fully updated definitive statement of the law relating to merger control in the UK. The 3rd edition includes in-depth analysis of how the regime has developed since the creation of the Competition and Markets Authority in April 2014. With new chapters and significant updates throughout, this new edition consolidates the long-standing position of this work as the leading title in this field. Lawyers, economists and all those advising on mergers and acquisitions will find comprehensive guidance on how to navigate the process of obtaining UK merger control approval. The third edition also offers deeper insights into understanding the regulatory risk around a proposed or completed merger.

New chapters in this edition:

• A stand-alone discussion (pending Brexit and the new EU/UK relationship) of the current relationship between EU and UK merger control rules
• An explanation of the key factors to consider in analysing the risk that a merger will be referred for a full Phase 2 investigation
• A review of the law and practice in relation to public interest mergers, where the Secretary of State claws back the decision-making role from the CMA, in relation to a merger which could impact on national security, the media sector, or the stability of the UK financial system.

Features:

• Provides detailed coverage of how the merger control rules have changed under the CMA, in the wake of the Enterprise and Regulatory Reform Act 2013, with fully updated commentary throughout the work
• Discusses in detail the jurisdictional rules and how to assess whether a merger qualifies for investigation (including the enhanced role of the Mergers Intelligence Committee)
• Analyses in detail practice and procedure and the possible outcomes and remedies at both Phase 1 and Phase 2 of the merger investigation process
• Explains how industrial economics principles are used to evaluate the competitive impact of a merger, equipping practitioners with the tools required to advise their clients on the degree of regulatory risk presented by a transaction
• Analyses the general principles of judicial review with particular discussion of how they have been applied by the Competition Appeal Tribunal to merger control decisions
• Covers the key merger control decisions and rulings of recent years, focusing on the most recent decisions taken by the CMA as well as key judgments of the CAT, Court of Appeal and Supreme Court.