Pris: 1676 SEK exkl. moms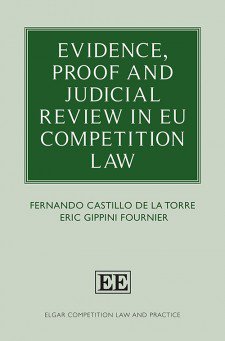 Fernando Castillo de la Torre and Eric Gippini Fournier, two of the most experienced competition litigators at the European Commission, undertake an in-depth analysis of the case law of the EU Courts on the rules of evidence, proof and judicial review, as they are applied in EU competition law. These topics often engage with fundamental rights, and the book takes stock of the most frequent criticisms that are made of the EU enforcement system and review by EU Courts. The result is an extremely thorough and well-structured review of the relevant rules of law and of the precedents. The authors combine valuable insights and critical analysis to construct a definitive yet balanced portrayal of the state of EU competition law.

Key features include:

• unique insights from two of the most experienced litigators in EU competition law

• the only comprehensive resource on the subject, all relevant legislation and a wealth of case law

• a clear structure designed specifically for legal practitioners, with detailed tables of contents and targeted access to the relevant provisions

• exhaustive examination of case law, including close theoretical analysis and detailed description of precedents with an eye to their practical application.

This book will be an essential resource for all legal practitioners specialising in EU competition law. It will also appeal to lawyers involved in litigating and enforcing antitrust and competition law at the national level, in EU Member States or other jurisdictions where rules of evidence and judicial review are inspired by the EU system.