Pris: 1232 SEK exkl. moms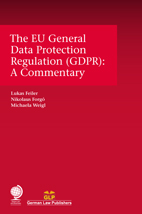 From May 2018, the General Data Protection Regulation 2016/679 (GDPR) replaces the Data Protection Directive 95/46/EC, representing a significant overhaul of data protection law in the European Union. Applicable to all EU Member States, the GDPR's relevance spans not only organisations operating within the EU, but also those operating outside the EU.

This commentary, published in association with German Law Publishers, provides a detailed look at the individual articles of the GDPR and is an essential resource aimed at helping legal practitioners prepare for compliance.

Content includes:

- full text of the GDPR's articles and recitals;
- article-by-article commentary explaining the individual provisions and elements of each article;
- a general introduction to data protection law with - a focus on issues such as:
- how to adapt a compliance management program
- whether or not to appoint a data protection officer
- 'privacy by design' and 'privacy by default'
- the consequences of non-compliance with the GDPR
- data portability
- the need for data protection impact assessments
- a detailed index.

In addition to lawyers and in-house counsel, this book is also suitable for law professors and students, and offers comprehensive coverage of this increasingly important area of data protection legislation.