Pris: 2256 SEK exkl. moms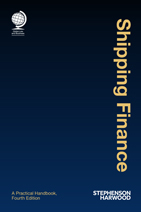 Now in its fourth edition, and containing over 500 pages of fully revised and updated material, Shipping Finance includes an analysis of ship mortgage terms and conditions, and mortgagee rights across the main maritime jurisdictions.

In addition, Shipping Finance provides an extensive discussion of the procedure and documentation for registering ships on a country-by-country basis, with detailed advice from local experts.

Chapters include: shipping finance from a banker's perspective; the financing of secondhand ships; the financing of new buildings; assignments of insurances and earnings, guarantees, indemnities, charges, debentures and other security relied upon by financiers; the sale and purchase of secondhand ships; the role of insurance in shipping; Islamic finance; Chinese leasing; and restructuring.

Shipping Finance is an essential reference tool for anyone involved in shipping finance including bankers, lawyers and shipowners.