Författare:
Azevedo Celso de
Titel:
Cyber Risks Insurance � Law and Practice
Utgivningsår:
2019
Omfång:
395 sid.
Förlag:
Sweet & Maxwell
ISBN:
9780414070349
Produkttyp:
Inbunden
Ämnesord:
Försäkringsrätt , IT-rätt

---
Pris: 2123 SEK exkl. moms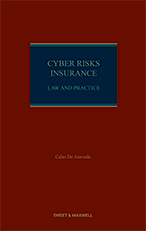 Heightened awareness of cyber security and the need to identify vulnerable assets makes Cyber Risks Insurance: Law and Practice an invaluable reference. This new title provides clarity on the key issues of cyber insurance risks, law, and practice. Written in an accessible and practical style designed to help you find answers quickly, it adopts a UK perspective with additional comparative analysis of the most significant cases in the USA. Complete with sample clauses from leading industry organisations including the Lloyd's Market Association and International Underwriting Association, this is your definitive guide to understanding cyber risks and the insurance coverage necessary to protect you.


This new title provides comprehensive advice on cyber insurance risks, law and its practical application, with key features including:

- Clear guidance explaining cyber risks exposures, cyber security assessment, and the necessary insurance coverage to protect you.
- Sample exclusion clauses issued by the Lloyd's Market Association, International Underwriting Association and other leading industry organisations.
- Includes a selection of practical clauses on issues such as cyber non-aggregation, information technology hazards, terrorism, ransom, and cyber-attacks. Takes a detailed look at cyber risks modelling and the underwriting of cyber risks.
- Examines the GDPR regime and new procedural requirements for compliance as well as the criteria for data breach notification and for the insurability of fines.
- Looks at silent cyber exposure, coverage and exclusions (e.g. CL380 and NMA2914/5) including property, construction, marine, and liability lines of insurance.
- Examines cyber incidents, claims issues and the emergence of Court disputes in this area – with comparative analysis of recent US cases.
- Addresses first party coverage issues including those relevant to network security breaches.
- Discusses the extent of cyber crime coverage including the crimes of extortion and fraudulent transfer of funds, among others.
- Explains business interruption coverage and key issues such as gross profit and revenue, period of coverage, trends clauses, and extended reputation coverage.
- Commentary on third party liability coverage including privacy and media liability issues.
- Outlines the state of the standalone cyber insurance market along with the growing risks and future developments.
- Written from a UK perspective with additional analysis of the most relevant US cases as well as the legal positions in Australia and New Zealand.