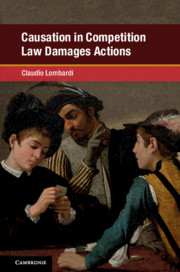 Competition law damages actions are often characterized by the uncertainty of the causal connection between the infringement and the harm. The damage consists in a pure economic loss flowing from an anticompetitive conduct. In such cases, the complexity of the markets structures, combined with the interdependence of individuals' assets, fuel this causal uncertainty. In this work, Claudio Lombardi elucidates the concept of causation in competition law damages actions and outlines its practical implications in competition litigation through the comparative analysis of the relevant statutory and case law, primarily in the European Union. This book should be read by practitioners, scholars, and graduate students with experience in competition law, as well as those interested in analyzing economic torts and causation in general.

- Examines an underexplored area of competition law

- Offers possible ways to harmonize European Union Law

- Will appeal to academics and practitioners looking for a holistic analysis of causation

Table of Contents:

1. Causation in competition law damages actions

2. Causation rules

3. Causation in the European Union competition law and decisions

4. Causal uncertainty in damages claims for competition law infringement

5. Proof rules of causation

6. Proving the uncertain causation

7. Causation in indirect and secondary antitrust damages.