Pris: 1270 SEK exkl. moms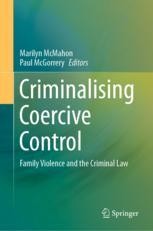 This book considers whether coercive control (particularly non-physical forms of family violence) should be prohibited by the criminal law. Based on the premise that traditional understandings of family violence are severely limited, it considers whether the core of family violence is power-based controlling or coercive behavior: attempts by men to psychologically dominate their partners. Such behavior can cause significant psychological, physical and economic harms to victims and is increasingly recognized as a form of human rights abuse.

The book considers the new offences that have been introduced in England and Wales (controlling or coercive behavior), Ireland (controlling behavior) and Scotland (domestic abuse). It invites consideration of three key questions: Do conventional criminal laws adequately regulate non-physical abuse? Is the criminal law an appropriate mechanism for responding to the coercive control of family members? And if a new and distinctive offence is warranted, what is the optimal form of that offence?

This ground-breaking work is essential reading for researchers and practitioners interested in coercive control and the proper role of the criminal law as a mechanism for regulating family violence.