Pris: 920 SEK exkl. moms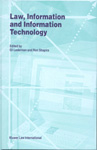 Detta samlingsverk innehåller artiklar av författare från olika delar av världen angående hur det nya föränderliga informationssamhället påverkar dagens rättssystem.



Innehåll:

Detailed Table of Contents.
Acknowledgements.
Preface.

I: Conceptualizing Information Law.
- The Emergence of Information Law: Object and Characteristics of a New Legal Area; U. Sieber.
- Protected Frameworks of Information in Criminal Law; E. Lederman.

II: Privacy.
- Privacy Reconceived: Protecting Personal Information in a Digital World; R. Wacks.

III: Intellectual Property.
- Exploring the Boundaries of Competitive Secrecy: An Essay on the Limits of Trade Secret Law; R. Bone.
- Copyright in Cyberspace: The Rule of the Law and the Rule of the Code; N. Elkin-Koren.

IV: Regulating the Internet.
- Anarchism Triumphant: Free Software and the Death of Copyright; E. Moglen.
- Cyberspace Self-Government: A Skeptical View from Liberal Democratic Theory; N. Netanel.
- Responsibility of Internet Providers: Comparative Analysis of a Basic Question of Information Law; U. Sieber.

V: The Stock Market.
- The Control of Insider Trading: Smoke and Mirrors! B. Rider.
- Fraud on the Market at Common Law: Lessons from Contemporary Finance and Economics; O. Yadlin.

VI: Authentication.
- Information Controls and Needs of Information Flow in Representative Democracies; S. Martin.
- Forgery in Electronic Messages: The Demise of Referable Documents; R. Shapira.

The Contributors.
Index.