Pris: 1349 SEK exkl. moms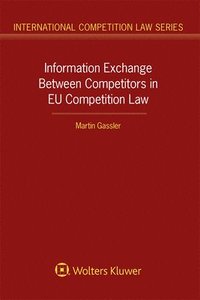 Competing firms often exchange information in order to make more informed market decisions which can help to overcome market inefficiencies. However, an abundance of legal and economic research as well as case law has shown that information exchange may also enable firms to engage in collusion more readily and sustain it longer. This book is the first to concentrate on this challenging topic of EU competition law in such depth. It focuses on ?pure? information exchanges ? exchanges that are not ancillary to a wider pro-competitive or anticompetitive conduct ? and thoroughly explains the characteristics of such information exchanges, their pro-competitive and anticompetitive effects and discusses all the relevant legal aspects for their assessment. The author provides a robust analytical framework for assessing information exchanges under Article 101 TFEU, focusing on the risk of collusive outcomes and what types of information exchange are particularly harmful.

With detailed attention to the leading cases on information exchange, the analysis examines the most important aspects for assessing information exchange between competitors, in particular:

- the concept of a concerted practice;

- the concepts of a restriction by object and effect, including their similarities and differences;

- the importance of evidentiary issues;

- the issue of signalling via advance public announcements;

- factors that facilitate collusion;

- efficiencies of information exchange, including market transparency;

- the legal challenges of tackling mere parallel conduct;

- facilitative practices in the Commission Guidelines, including the Horizontal Cooperation Guidelines; and

- safe harbours for certain types of information exchange.

The book offers clear guidance on how to identify and thus distinguish information exchange that restricts competition by its object and information exchange that restricts competition (only) by its effects. It offers practical solutions to some of the perceived issues when assessing information exchanges.

With its wealth of analysis not available from other sources, this concise yet comprehensive review of a much-debated topic in competition law offers clear guidance for practitioners in assessing the issues surrounding information exchange. The book will also be welcomed by competition law academics, competition lawyers and competition authority officials throughout Europe.