Författare:
Tackaberry John , Marriott Arthur
Titel:
Bernstein's Handbook of Arbitration and Dispute Resolution Practice
Anmärkning:
2 volymer. (Den tidigare upplagan av boken heter Handbook of Arbitration Practice.)
Upplaga:
4 uppl.
Utgivningsår:
2003
Omfång:
2312 sid.
Förlag:
Sweet & Maxwell
ISBN:
0421757604
Produkttyp:
Inbunden
Ämnesord:
Processrätt

---
Pris: 5347 SEK exkl. moms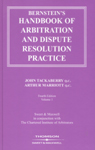 Ur innehållet:
Introduction.
General principles.
Agriculture property arbitrations.
Alternative dispute resolution.
Adjudication.
Construction industry arbitration.
Dispute boards.
Documents-only arbitrations in consumer disputes.
International commercial arbitrations.
Investment treaty arbitration.
Maritime arbitration.
Online dispute resolution.
Rent review.
Small claims arbitrations in the County Court.
Sport.
Dispute resolution in WTO law.
Disciplinary tribunals for the legal profession.