Pris: 1390 SEK exkl. moms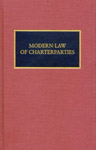 I antologin Modern Law of Charterparties tas ett antal aktuella och viktiga ämnen rörande befraktning av fartyg upp till diskussion. Här behandlas många viktiga frågor, som bland annat:

– Behövs en tvingande lagstiftning på området?
– Vilket ansvar har befraktaren för skador som godset orsakar på fartyget?
– Vilket ansvar har befraktaren för skador som drabbar tredje man vid transporter av farligt gods eller med undermåliga fartyg?
– Vad betyder den nya ISM-koden för tolkningen av certepartiklausuler rörande fartygets standard?
– Hur tolkas off hire klausuler i skandinavisk jämfört med angloamerikansk rätt?
– Vem bär ansvaret för dröjsmål och skador i samband med ITF-blockader?

Bidragen är författade av några av de ledande experterna i världen på befraktningsjuridik, bland dem Julian Cooke, Nicholas Gaskell, Lars Gorton, Hugo Tiberg, Hannu Honka och Peter Wetterstein.

English text:

In this essential and highly practical anthology a number of contemporary and important legal problems concerning the chartering of ships are discussed:

– Charter Parties – Is There a Need for Mandatory Legislation?
– Charterers' Liability to Shipowner – Orders, Indemnities and Vessel Damage
– Contracts of Affreightment – Some Features and Principles
– The Standard of the Vessel and the ISM Code
– Charterer Liability for Third Party Damages
– Charterer's Liability and Insurance
– On the Interpretation of Off-Hire Clauses
– The Time Factor in Modern Charter Parties
– Trading in ITF Red Areas.

The articles are written by a number of leading international experts in this field of maritime law, such as Julian Cooke (barrister), professor Nicholas Gaskell, professor Lars Gorton, professor Hugo Tiberg, professor Hannu Honka and professor Peter Wetterstein.