Författare:
Chalmers Don
Titel:
Genetic Testing and the Criminal Law � International Perspectives
Utgivningsår:
2005
Omfång:
350 sid.
Förlag:
Cavendish
ISBN:
1844720160
Typ av verk:
Samlingsverk
Ämnesord:
Straffrätt , Processrätt

---
Pris: 789 SEK exkl. moms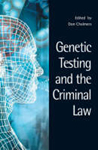 Genetic Testing and the Criminal Law is a unique international treatment of the dynamic and established criminal investigation technique of DNA testing. This book gathers together chapters dealing with DNA testing in 12 countries. Each chapter deals with the specific criminal law of the jurisdiction in its interaction with the expanding use of DNA testing in criminal investigations and trials.

Collectively, this book emphasises the need for the law to respond to scientific developments in a thoughtful and well-reasoned manner. Several contributors emphasise concerns relating to the reliability of DNA evidence in criminal trials, and the privacy and civil liberties issues surrounding the collection of DNA samples from individuals and their storage.

The chapters cover the criminal law of the United Kingdom, Japan, Australia, Germany, New Zealand, Spain, South Africa, Canada Italy, Finland, Argentina and Denmark. The chapters provide valuable accounts not only of the use of genetic testing in the criminal law but also of the development of the law in these jurisdictions.