Författare:
MacLean Robert M.
Titel:
The EU Trade Barrier Regulation � Tackling Unfair Foreign Trade Practices
Upplaga:
2 uppl.
Utgivningsår:
2005
Omfång:
276 sid.
Förlag:
Sweet & Maxwell
ISBN:
0421919205
Produkttyp:
Inbunden
Ämnesord:
Marknadsrätt , EU-rätt

---
Pris: 1519 SEK exkl. moms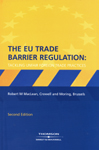 EG:s regler mot handelshinder eller "The Trade Barrier Regulation" (TBR) är Europas sätt att undvika hinder mot fri handel och för att se till att länder följer den internationella handelsrätten. TBR påverkar tillverkningsindustrin, tjänstesektorn, tekniska handelshinder, immateriella rättigheter och investeringar. Reglerna ger möjlighet att lösa internationella handelstvister och samspelar med WTO:s procedurer för tvistlösning vilket påverkar alla länder som lyder under WTO:s regler. I denna bok ges en utförlig beskrivning av såväl materiella frågor som procedurregler rörande dessa allt viktigare regler.

Robert M. Maclean är delägare i CMS Cameron McKenna och har varit verksam i Bryssel under många år som rådgivare åt stater och företag vid internationella handelstvister. Bettina Volpi är verksam som advokat i Bryssel.

Ur innehållet: Introduction. The Basic Requirements for Assessing the TBR Process. Actionable Obstacles to Trade. The Procedural Dimension. Import and Export Restrictions as Obstacles to Trade. Technical Barriers to Trade. Other Potential Obstacles to Trade in Goods. Protection of Intellectual Property Rights. Trade in Services. Proving Injury and Adverse Trade Effects. The EU Interest Test. Eliminating Obstacles to Trade without Resorting to International Action. Action under the WTO Dispute Settlement Procedure. Retaliation and Sanctions. The Evolution and Future Shape of the TBR. Appendices.