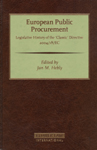 This book gathers into a single source all the legislative documents preceding the coming into effect of the important directive 2004/18/EC. In great detail it clearly reveals the negotiation and compromise over the realisation of the legislative objectives modernisation, simplification, and flexibility in addition to such crucial elements and outcomes of the debate as the following:
- the introduction of electronic purchasing mechanisms;
- provisions to avoid conferring;
- disvantage on any economic operator or giving preference to any national production;
- the development of the negotiated procedure and the framework agreement;
- environmental impact requirements;
- provisions for small and medium-size undertakings (SMUs);
- social and employment policy;
- compliance and review procedures;
- protective measures against certain products; and
- combating corruption and organised crime.

The book first presents documents that outline the reasons that led to the intention to integrate public works (93/37/EEC), supply contracts (93/36/EEC), and service contracts (92/50/EEC) into one new directive. Then follow documents that detail the drafting of the recitals in the Preamble, the articles and the annexes. Finally, a list of legislative documents offers as complete an overview as possible of every item that played a role in the creation of Directive 2004/18/EC, including several amendments that have been made to the directive since it came into effect.