Pris: 908 SEK exkl. moms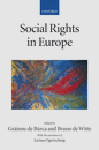 Social rights, while traditionally the neglected sibling within the human rights family, have been prominent on the agenda in Europe in recent years. The debate over the justiciability of social rights in the EU's Charter of Fundamental Rights, and the revision of the Council of Europe's European Social Charter, have contributed in different ways to this prominence. The chapters in this book examine these recent developments, and discuss some of the current dilemmas and challenges for the system of protection of social rights in Europe.

The collection moves deliberately beyond the traditional focus on labour rights to consider other social rights which are seen to be of growing importance, such as health and disability in particular. Writers who are familiar with, and in some cases who have worked within, the various European systems assess different aspects of their functioning, including their respective mechanisms for monitoring and enforcement. The relationship between the two main systems of protection of social rights (The EU Charter of Fundamental Rights and the European Social Charter) is considered both in a chapter on the possibility for future accession of the EU to the ESC, as well as through a series of case studies on the right to work, to health, to freedom from discrimination, and the rights of the disabled. This approach allows reflection on the respective strengths and weaknesses of these two systems, and the existing tensions and synergies between them.