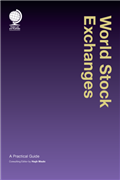 Every day around the globe, businesses seek out equity capital. From young, entrepreneurial growth companies to mature global businesses, working capital is required to run, sustain and grow your business.

As the world shrinks due to enhanced communication through technology, the choices available to companies in search of equity expand. For the advisers guiding those companies, the alternative markets that can be recommended increase year on year. World Stock Exchanges: A Practical Guide seeks to assist those who may be interested in the equity markets in analysing the choices available to them.

This title features contributions from leading practitioners in the field on 16 major markets, including Australia, China, Dubai, South Africa, the United Kingdom and the United States.

Whether you are comparing the relative merits of floating a company on NASDAQ or the London Stock Exchange, in China or in Singapore, on Euronext or OMX, this new title will be an extremely helpful source of information. Intermediaries, banks and corporate finance advisers, brokers, sponsors, lawyers and accountants will find it highly relevant and informative in analysing the key criteria applying to major stock exchanges around the world. For market practitioners, it will be an essential addition to their library.