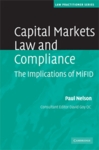 Contents:

Part I. Evolution of Capital Markets Regulation, FSA and the European Single Market:
1. Introduction;
2. FSMA and the single market;

Part II. Licensing and Rule Application:
3. Licensing;
4. The application of FSA MiFID Rules;

Part III. The Firm's Infrastructure:
5. Systems and controls;
6. Conflicts of interest;
7. Client property;

Part IV. Conduct of Business:
8. Client classification and client documentation;
9. Principles of conduct;
10. Marketing investments;
11. Advising clients;
12. Improper behaviour in dealing and executing orders;
13. Dealing and executing orders;
14. Exchanges and MTFs;

Part V. Application of MiFID to Particular Businesses:
15. Corporate finance;
16. Broker-dealers;
17. Asset managers;
18. Trustees;
19. Retail intermediaries.