Pris: 2140 SEK exkl. moms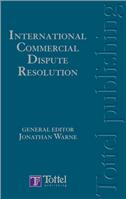 International Commercial Dispute Resolution is a new title that reflects the way in which the litigation arena has changed over recent years. Cross-border business relationships and the present economic climate have markedly increased the potential for commercial disputes to arise between parties in different jurisdictions, and clients are increasingly looking for the most time and cost effective way of resolving disputes.

With contributions from leading practitioners, this practical book looks at dispute resolution in 24 jurisdictions that represent the world's major international trade centres and developing legal systems.

Each chapter is devoted to a different jurisdiction and follows the same structure. It provides a practical summary of the relevant legal systems and offers an insight into the manner in which each jurisdiction seeks to resolve commercial disputes, both through traditional court proceedings and alternative dispute resolution techniques.

Written by leading local practitioners, each chapter opens with a round-up of the key issues that you will need to consider when dealing with this country, and includes flowcharts summarising the procedural stages of litigation.