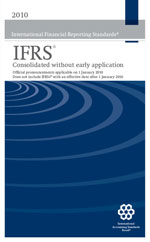 This is the only official printed edition of the consolidated text of the IASB's authoritative pronouncements required for the financial year beginning on 1 January 2010.

This single volume presents the International Financial Reporting Standards (IFRSs), including International Accounting Standards (IASs), IFRIC and SIC Interpretations, and the accompanying documents—illustrative examples, implementation guidance, bases for conclusions and dissenting opinions—as issued by the IASB and with an effective date no later than 1 January 2010.

This edition does not consolidate those IFRSs or changes to IFRSs with an effective date after 1 January 2010.