Pris: 1864 SEK exkl. moms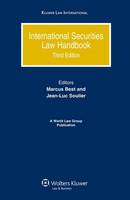 Numerous changes, large and small, in securities laws and regulations in many jurisdictions necessitate periodic new editions of this unique and much relied upon source of information for global investors. In this, the third edition, the objective remains that of providing a comprehensive and reliable survey of the relevant issues encountered in the issue and offer of cross-border securities in the most significant financial markets. Under the prevailing conditions of global financial markets, such a current survey is more indispensable than ever.

Since its first edition, the International Securities Law Handbook has answered the need for a user-friendly source of information covering the the key elements of securities law and regulations. Now fully updated to include thirty-five jurisdictions, the details offered in this invaluable reference provide investors with greater protection, point the way to as much transparency as possible in securities transactions, ease the gathering of information on the securities themselves and the participants involved, and help investors better formulate their needs and interact with foreign counsel as necessary.

Country chapters, each written by an expert in the particular country's securities law, appear alphabetically. Among many others, issues and topics covered include the following:


• description of the securities markets;

• listing/market authority;

• regulatory authority;

• principal laws regulating the securities markets;

• listing requirements and procedures;

• civil and criminal liability for securities law breaches;

• prospectus/disclosure requirements;

• quasi securities and derivatives;

• resale and secondary trading;

• exemptions available; and

• special cases, such as employee share schemes, rights issues, and takeovers.


For consistency purposes and ease of reference, country chapters appear alphabetically and address the same topics in the same order. For each of the thirty-five jurisdictions covered, the chapter deals with the subjects of most interest to overseas investors and their advisers in a consistent format, so that information on specific issues can be easily found. Comparisons can also be made between the treatment of particular issues by different jurisdictions.

Legal practitioners, in-house counsel, investment bankers and others involved in the issue or sale of securities in foreign jurisdictions will find here an immediately comprehensible overview of the legal framework in which key markets operate, along with a clear description of the legal environment existing in each jurisdiction covered. The Handbook is also an easily-accessible desk reference for lawyers, business executives and others concerned with multinational or cross-border transactions.