Pris: 1300 SEK exkl. moms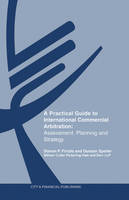 What is International Arbitration and Why Choose It? Drafting an Agreement to
Arbitrate. Commencing an Arbitration. The Tribunal. Strategic Steps in Commencing an Arbitration. Jurisdiction. Powers and Duties of Arbitrators. Stages of the Arbitration. Strategy In Conduct of the Arbitration. The Award. Enforcing An Arbitral Award. Challenging An Arbitral Award. Specific types of international arbitration. Checklists.