Pris: 410 SEK exkl. moms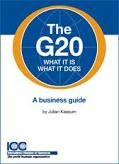 In 2008, the G20* replaced the Group of Eight (G8) as the world's principal forum for international economic cooperation. This represented a major innovation in the global governance system. ICC's business guide to the G20 will help business leaders and policy makers to better understand the G20 process.

This handbook explains in detail what the G20 is, traces its origins and explains the reasons for its transformation into a top leadership group. It identifies the critical impacts that G20 policy developments may have on global economic activity and focuses on issues of special interest for business:

•restoring global economic growth and stability,
•promoting open trade and investment,
•reforming the financial sector,
•addressing the threat of climate change, fighting corruption,
•and closing the development gap.

Highlighting the main outcomes of the past G20 summits at the level of heads of state and government, this guide succinctly presents the key priorities that have been identified for the G20 summit in Cannes in November 2011. A behind the scene look at the G20 describes the 'making of' G20 summits: the "sherpa" process, "troika" and the pivotal role of the G20 finance and other G20 ministerial groupings. Finally, this guide analyzes concisely the outcome of G20 work, summarizes the main accomplishments of the G20 since 2008 and the key challenges the group will need to address to strengthen its position as the world's top economic forum.

Anyone involved with the future of the world economy will find in these pages a wealth of analyses and information brilliantly put together by one of ICC's leading experts. Required reading for business people, policy makers and academics.

*The Group of Twenty (G20) is composed of Canada, France, Germany, Italy, Japan, United Kingdom, the United States (G7) and Russia (G8) plus Argentina, Australia, Brazil, China, India, Indonesia, Korea, Mexico, Saudi Arabia, South Africa, Turkey and the EU.

The Author: Julian Kassum is an expert on global economic governance and the role of business in society and the world economy. He has worked at the International Chamber of Commerce (ICC) and for Total. He is now a consultant for a number of international organizations, and currently working on the business contribution to the G20 summit 2011 in Cannes. Julian Kassum has a Master's Degree from the Institut d'Études Politiques de Paris (Sciences Po) and has lived in France, the United States and Argentina.