Författare:
Scherer Joachim
Titel:
Telecommunication Laws in Europe
Upplaga:
6 uppl.
Utgivningsår:
2013
Omfång:
1258 sid.
Förlag:
Bloomsbury Professional
ISBN:
9781847668851
Produkttyp:
Inbunden
Typ av verk:
Kommentar
Ämnesord:
Marknadsrätt , Offentlig rätt , EU-rätt

---
Pris: 2086 SEK exkl. moms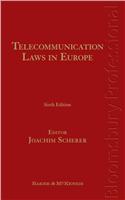 This is a unique guidance book providing a comprehensive and up-to-date overview of telecommunications regulation, law and regulatory practice in Europe, enabling the reader to make valuable comparative analyses with detailed coverage of 34 EU and non-EU countries in a single, accessible source.

The lead chapter on Electronic Communication Law and Policy of the European Union provides an in-depth analysis on the EU legal framework for the electronic communications sector, as amended by the 2009 EU Regulatory Package.

In 34 country chapters, local experts describe and analyse the telecommunications laws and regulatory practice of the EU Member States and several non-EU countries in Europe.

The EU chapter and the country chapters are complemented by detailed chapters on EU Data Protection and Privacy, EU Competition Law in the Telecommunications Sector, The Law of the International Telecommunication Union and the World Trade Organisation, and Compliance and Risk Management.

Telecommunication Laws in Europe is essential reading for all lawyers and non-legal executives involved in telecom, IT and media.

Countries included:
EU
Austria, Belgium, Bulgaria, Cyprus, Czech Republic, Denmark, Estonia, Finland, France, Germany,
Greece, Hungary, Ireland, Italy, Latvia, Lithuania, Luxembourg, Malta, Netherlands, Poland, Portugal,
Romania, Russia, Slovakia, Slovenia, Spain, Sweden, UK

Non EU
Croatia, Macedonia, Norway, Switzerland, Turkey, Ukraine

Each chapter covers: market; legal structure; regulation of networks and services; access and interconnection; control of anti-competitive behaviour; consumer protection; data protection; access to property and rights of way; equipment approval; enforcement and remedies and convergence.