Pris: 1262 SEK exkl. moms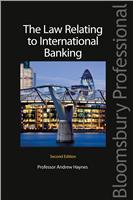 This book covers the range of legal issues that arise in international banking and capital markets transactions. It also explores and explains the legal issues arising as a result of the Euro crisis.

This new edition is fully revised and expanded with all relevant case law and legislation.

The book focuses on the legal issues relating to the commercial activities of the international banking sector. Adopting an approach that combines practical and analytical the book provides an analysis of how to determine the forum and jurisdiction that apply to a transaction.

Comprehensive in its coverage the book provides detailed commentary on sovereign risk, term loans, securities and guarantees, primary syndication, secondary syndication, debt transfer, primary, secondary and tertiary securitisation (bond issues and structured lending and the bond markets), derivatives, standby letters of credit and demand guarantees, contractual remedies, exchange controls and legal opinions.