Pris: 453 SEK exkl. moms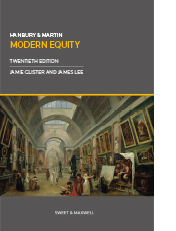 Hanbury & Martin: Modern Equity provides an up-to-date and modern account of this challenging area of the law. This twentieth edition appears exactly 80 years after the first edition published in 1935, and with two new editors at the helm the work has undergone its most significant revision to date. Restructured and revised to reflect modern Trusts modules, incorporating the latest in case law and academic debate, it continues to be unparalleled in breadth of scope and wealth of detail, and remains the authority on equity and trusts law.

New for the twentieth edition:

- The book is now divided into five parts: Introduction, Trusts and Powers, Trustees and Fiduciaries, Personal and Proprietary Claims, and Miscellaneous Equitable Remedies and Doctrines. Some material is now covered in new chapters, while each existing chapter has been carefully revisited with many containing entirely new sections.
- A new chapter in the introductory part, 'Equity and the Modern Commercial World' to explain some of the commercial relevance of trusts, especially in the wake of the global financial crisis.
- Comprehensive coverage of recent developments, including detailed analysis of key decisions of the United Kingdom Supreme Court such as Pitt v Holt on trustees' decision-making; Williams v Central Bank of Nigeria on dishonest assistance, knowing receipt and limitation; FHR European Ventures v Cedar Capital Partners LLC on proprietary remedies for breach of fiduciary duty; AIB Group (UK) v Mark Redler & Co Solicitors on equitable compensation for breach of trust.
- Incorporation of legislative developments, including the Marriage (Same Sex Couples) Act 2013, the Trusts (Capital and Income) Act 2013, and the Inheritance and Trustees' Powers Act 2014.