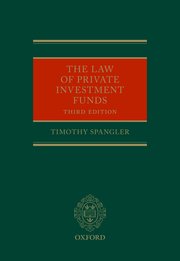 Now in its third edition, The Law of Private Investment Funds provides the clearest and most concise dual US/UK and pan-asset analysis available on the legal and regulatory issues that arise in connection with private investment funds. The book advises legal practitioners on the structuring, formation, and operation of a range of asset classes, including hedge funds, private equity funds, real estate funds, and other non-retail collective investment vehicles.

This edition has been thoroughly revised to reflect the numerous and significant developments in financial services regulation on both sides of the Atlantic since the publication of the second edition. More elements of the Dodd Frank financial regulatory reforms, which increased the scope and reach of regulation applicable to private funds, have been implemented and commented on in this edition. In relation to European regulation, the impact of the commencement of the Alternative Investment Fund Manager Directive (AIFMD) has also now been analysed.

The US/UK approach is maintained, but this edition now also includes consideration of third countries, particularly the Middle East and Asia. An entirely new chapter is dedicated to litigation and regulatory enforcement, and significant treatment is given to the effects of the Global Financial Crisis, in particular the regulatory response and the changes to negotiating leverage of fund managers and fund investors. The potential impact of 'Brexit' on the United Kingdom private funds industry and the future of the AIMFD and European private funds is also examined.