Pris: 449 SEK exkl. moms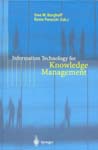 Ur innehållet:
Foreword.
Introduction.
Part I. The Flow of Knowledge: The Lessons Learned Cycle; Knowledge Pump: Supporting the Flow and Use of Knowledge.
Part II. Knowledge Cartography: Negotiating the Construction and Reconstruction of Organisational Memories; A Technology for Supporting Knowledge Work: The RepTool.
Part III. Process Knowledge: Two Complementary Tools for the Cooperation in a Ministerial Environment; Ariadne: Supporting Coordination Through a Flexible Use of the Knowledge on Work Processes.
Part IV. Product Knowledge: From Natural Language Documents to Sharable Product Knowledge: A Knowledge Engineering Approach; Corporate Memories for Knowledge Management in Industrial Practice: Prospects and Challenges.
Bibliography.
List of Figures.
List of Tables.
Index.
Contact Addresses.