Författare:
Lévy Laurent , Veeder V. V.
Titel:
Arbitration and Oral Evidence
Utgivningsår:
2005
Omfång:
197 sid.
Förlag:
ICC
ISBN:
9284213444
Typ av verk:
Samlingsverk
Serie:
ICC nr. 689
Ämnesord:
Processrätt

---
SLUT på förlag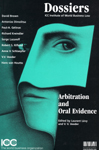 The evidential relationship between contemporary documentation, written testimony and oral testimony is a permanent challenge to all arbitrators and counsel in an international arbitration. However experienced the factual or expert witness may be, an oral witness has to be prepared for his testimony and a witness statement has to be written, both with legal help. The issues divide counsel and arbitrators, and there is a need for a better understanding of what is right and wrong in the interaction between written and oral evidence. Arbitration and Oral Evidence lays out the issues in a transparent and easy-to-understand way.

The book is written by expert arbitrators and practitioners, some of whom are affiliated with the ICC's Court of Arbitration, Arbitration and Oral Evidence, approaches the problems of oral evidence from several points of view, among them:
• Oral evidence vs documentary evidence
• Witness statements
• Benefiting from oral testimony of expert witnesses
• Counsel-witness relations
Taken together, these observations provide a comprehensive overview of the problems and possible solutions.