Pris: 1576 SEK exkl. moms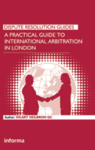 With the development of international arbitration, the market for knowledge of the subject has grown globally beyond those lawyers with expertise in the subject. A Practical Guide to International Arbitration in London takes a pragmatic look at how to run an international arbitration where the seat of the arbitration is London.

It explores on a stage-by-stage basis the tactical, practical and legal issues that need considering in an international arbitration in London from the perspective of the arbitral process, including its relationship with the court support given by the English courts. The book also examines the role of the English courts in assisting foreign arbitrations.

This book is an easy to understand one stop practical guide with many useful suggestions and tips in relation to a process which is different from litigation, from someone experienced in international arbitration and the English process. In addition, it provides references to key legal authorities and the English Arbitration Act 1996. It includes a comprehensive set of appendices.

A Practical Guide to International Arbitration in London is directed principally at lawyers not familiar with London arbitration, including foreign as well as English dispute resolution and transactional lawyers and corporate counsel, and will enable them to advise their clients when faced with a London arbitration or considering including one in a contract. It will also act as a short and concise reference book for those experienced in international arbitration.