Författare:
Bennion F.A.R.
Titel:
Understanding Common Law Legislation – Drafting and Interpretation
Utgivningsår:
2009
Omfång:
256 sid.
Förlag:
Oxford University Press
ISBN:
9780199564101
Ämnesord:
Utländsk rätt , Allmän rättslära

---
Pris: 379 SEK exkl. moms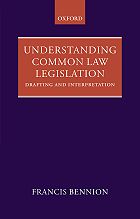 Explains the system of interpretation common to British, Commonwealth, and United States legislation under the common law
Shows how the traditional method of statutory interpretation interlocks with the new system under the Human Rights Act (1998)
Describes for students and legal practitioners the way to interpret British, Commonwealth, and United States legislation
Many countries use and apply the common law. The common law world largely operates through statutes enacted by a country's democratic legislature. These statutes are drafted and interpreted according to a uniform system of rules, presumptions, principles and canons evolved over centuries by common law judges.

In this book, Francis Bennion distills forty years of his prolific writings on statute law and statutory interpretation to provide valuable guidance on statutory interpretation applicable to all common law jurisdictions.


Readership: Scholars and students of common law and constitutional law; constitutional lawyers; parliamentarians; judiciary; practitioners.