Pris: 955 SEK exkl. moms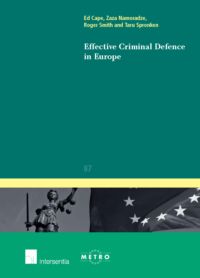 Every year, millions of people across Europe – innocent and guilty - are arrested and detained by the police. For some, their cases go no further than the police station, but many others eventually appear before a court. Many will spend time in custody both before and following trial. Initial attempts by the European Union to establish minimum procedural rights for suspects and defendants failed in 2007 in the face of opposition by a number of Member States that argued that the ECHR rendered EU regulation unnecessary. However, with ratification of the Lisbon Treaty, criminal defence rights are again on the agenda.

Based on a three year research study, the book explores and compares access to effective defence in criminal proceedings across nine European jurisdictions that constitute examples of the three major legal traditions in Europe, inquisitorial, adversarial and post-state socialist: Belgium, England & Wales, Finland, France, Germany, Hungary, Italy, Poland and Turkey.

Part I sets out the research methodology and an analysis of the baseline requirements that, according to European Court of Human Rights case law, have an impact on the rights of the accused. In addition to the general fair trial rights, such as the presumption of innocence, the right to silence, equality of arms, and the (conditional) right to release pending trial, the rights explored include: the right to information, the right to legal assistance and legal aid, and a number of procedural rights, such as the right to adequate time and facilities to prepare a defence, participation rights, the right to free interpretation and translation, and the right to reasoned decisions and to appeal. Part II consists of a description and critical analysis of access to effective criminal defence in the nine countries in the study. Part III includes a cross-jurisdictional analysis of compliance, in law and in practice, with the ECHR requirements. It also contains an analysis of how they interrelate, and of whether structures, systems and legal cultures exist to enable individuals to effectively exercise these rights.

This volume sets out to contribute to the implementation of the rights of suspects and defendants to a real and effective defence, especially for those who lack the means to pay for legal assistance themselves. The recommendations are designed to contribute to the development of meaningful policies and processes that will help to ensure effective criminal defence across the EU. The book is essential reading for academics, researchers, students, defence lawyers and policy-makers in the area of criminal justice in Europe.