Författare:
Pennings Frans
Titel:
European Social Security Law
Upplaga:
5 uppl.
Utgivningsår:
2010
Omfång:
382 sid.
Förlag:
Intersentia
ISBN:
9789050957298
Produkttyp:
Inbunden
Ämnesord:
Offentlig rätt , EU-rätt

---
Pris: 1134 SEK exkl. moms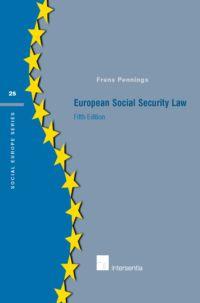 This is the completely revised and updated fifth edition of this authoritative handbook, which is used in many courses on European social security and of which already several translations have been made in other languages.

In the past decades the coordination and equal treatment provisions of the European Union have become of vital importance. This book gives a clear overview of the main lines and main developments of this significant part of EU law.

On 1 May 2010 a new Coordination Regulation on social security for migrants, Regulation 883/2004, came into force. The complete revision of the coordination regulation meant that an in-depth revision of this handbook on the coordination provisions was essential. This book gives an explanation of the meaning of the provisions of the Regulation, its effects on national case law, its differences with the old Regulation and the case law of the Court of Justice still relevant to these provisions. A second main part of EU social security law consists of provisions requiring equal treatment of men and women. The book explains the developments in this area and their meaning for present-day social security.

A separate part considers social policy measures and the instruments employed in this area.