Titel:
COE Teacher education for change – The theory behind the Council of Europe Pestalozzi Programme
Anmärkning:
Pestalozzi series n°1
Utgivningsår:
2011
Omfång:
151 sid.
Förlag:
Council of Europe Publishing
ISBN:
9789287170200
Ämnesord:
Internationell rätt , Offentlig rätt

---
Pris: 396 SEK exkl. moms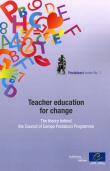 What is the main role for teachers today? Why is the Council of Europe dealing with education, and teacher education in particular? How is educational thinking guided by visions of a future society desirable for all?

How, in the midst of a fierce battle for curriculum time, can education for human rights, democracy and mutual understanding be embedded in the existing curricula?

What are the values underlying our educational visions?

The aim of this publication is to offer a few answers to these and many other questions. Above all, its purpose is to contribute to the ongoing debate, more necessary than ever, on the role of teachers and teacher education in the broader context of teaching and learning for a sustainable democratic society.