Titel:
FIDIC Conditions of Contract for Design, Build and Operate Projects (DBO)
Utgivningsår:
2008
Omfång:
200 sid.
Förlag:
FIDIC
ISBN:
9782884320528
Ämnesord:
Förmögenhetsrätt , Fastighetsrätt

---
Pris: 612 SEK exkl. moms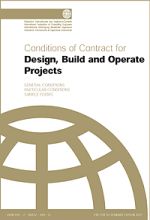 FIDIC published in 1999 Conditions of Contract for Construction, for Plant and Design-Build, and for EPC/Turnkey Projects, as well as the Short Form of Contract for lower value or less complex projects, followed by a form of contract for dredging works. Following their publication, it became clear that there was a growing need for a document which combined a design-build obligation with a long-term operation commitment. Whilst it was recognised that there were alternative scenarios encompassing the Design-Build-Operate (DBO) concept – for example, the "green-field" scenario of Design-Build-Operate, and the "brown-field" scenario of Operate-Design-Build – it was also recognised that different scenarios required different contract conditions. Moreover, the conditions applicable to short-term operation differed considerably to those applicable to long-term operation. A further consideration was whether it was best to approach a DBO project either as a single long-term contract or as two separate, or linked, contracts.

FIDIC has chosen to adopt the green-field Design-Build-Operate scenario, with a 20- year operation period, and has opted for a single contract awarded to a single contracting entity (which will almost certainly be a consortium or joint venture) to optimise the coordination of innovation, quality and performance, rather than award separate contracts for design-build and for operation. The contractor has no responsibility for either financing the project or for its ultimate commercial success. This is the basis upon which this document has been prepared.

The document, as written, is not suitable for contracts which are not based on the traditional Design-Build-Operate sequence, or where the Operation Period differs significantly from the 20 years adopted.

When preparing these Conditions of Contract for Design, Build and Operate Projects, the drafting group attempted to include all conditions of a general nature, which were likely to apply to the majority of DBO contracts, into General Conditions. However it was recognised that many employers or governments, or even different jurisdictions, particularly if the conditions were to be used on domestic contracts, may require special conditions of contract, or indeed particular procedures, which differed from those included in the General Conditions. For this reason, the DBO document Particular Conditions Part B – Special Provisions which includes advice to drafters of contract documents who may wish to add Special Provisions to replace or supplement the clauses to be found in the General Conditions.