Pris: 1554 SEK exkl. moms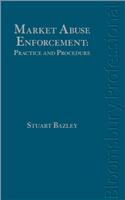 This new title is concerned with the interplay between the Financial Services Authority's ('FSA') statutory powers to impose administrative law sanctions on persons that have engaged in abuse in the financial markets and the statutory system of Tribunal accountability provided by the Financial Services and Markets Act 2000 ('the Act').

It provides a thorough analysis and assessment of both the law of market abuse and the operation of the Financial Services and Markets Tribunal ('FSMT') and the Upper Tribunal (Tax and Chancery) ('UT') following the implementation of the Tribunal, Courts and Enforcement Act 2007 in April 2010 when as part of an improved and unified system of statutory Tribunals the functions of the FSMT were transferred to the UT. This book captures the resulting changes to the Tribunal's governance and rules of procedure. It sets out to question whether the Tribunal has effectively held the FSA's enforcement decision making to account and whether its individual case decision making has provided a wider contribution to the law on market abuse.

Includes:
An historical analysis of the law concerning market manipulation and insider dealing regulation; Explores the relationship between the statutory definitions of behaviour constituting market abuse and the source of the FSA's enforcement powers together with those policy issues that shape how such powers are deployed; A general analysis of concepts of accountability allowing an appreciation of the framework of accountability within the Act as well as the benefits and deficiencies of accountability provided by the Courts when compared to those provided by a specialist Tribunal.


Contents

1 Introduction and historical context;
2 Market abuse – UK regulation and its technical provisions;
3 Information: Control and disclosure, market abuse surveillance, information gathering and formal investigations;
4 Enforcement decision-making processes;
5 The legal basis for Regulator accountability;
6 The Upper Tribunal (Tax and Chancery) jurisdiction and its independent decision making;
7 The tribunal's rules of procedure, evidence and the impact of costs;
8 The tribunal's impact on the market abuse regime and the protection of financial markets;
9 Comparison with the criminal law and parallel regulatory proceedings;
10 Conclusions and looking ahead: The Financial Conduct Authority and Market Abuse;
Appendix 1 FSA Market Abuse and Misconduct Enforcement, Chronological Case Analysis;
Appendix 2 Market abuse and market misconduct case data shown by year;
Appendix 3 FSA Market abuse and market misconduct financial penalties in order of size;
Appendix 4 Market Abuse Behaviours, Principles or Rules breaches utilised in FSA enforcement shown by year;
Appendix 5 Percentage of market abuse cases determined with involvement of Tribunal per year;
Appendix 6 FSA criminal insider dealing and market abuse;
Appendix 7 FSA charges for criminal insider dealing and market abuse, where trial commenced or awaiting trial.