Pris: 2643 SEK exkl. moms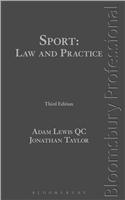 This is a major textbook on Sports Law in the UK and consolidates guidance across all the major practice areas of interest to sports lawyers. Written by a team of acknowledged and acclaimed experts, this comprehensive work is essential reading for solicitors and barristers practising sports law, as well as Universities, governing bodies, sports agencies, clubs and commercial firms. Practical insight from the field With numerous practical insights from the frontline, this book is full of practice tips, precedent clauses, detailed explanations of key practical issues and step-by-step analysis.

This new edition includes new chapters on: Government intervention in sport; Match-fixing and related corruption (including reference to the Bribery Act); Financial regulation; Dealing with on-field offences; Mediation/ADR in sport; Selection disputes.