Pris: 2629 SEK exkl. moms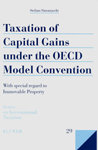 Increasing globalization and the related cross-border flows of capital resources has only increased interest in the taxation of transnational capital gains among practitioners and scholars. This is particularly true as it relates to investments in immovable property. As a consequence, Article 13 of the OECD Model Convention covering capital gains has emerged as one of the documents key provisions. Despite this, international tax literature has devoted little attention to the systematic analysis of capital gains in relation to tax treaties. Stefano Simontacchi's thorough and thoughtful examination of the ramifications of Article 13 addresses this need to know in a meaningful and readily actionable fashion.

Based on in-depth historical research, the book pays particular attention to the definition of capital gains falling within the scope of Article 13. It also thoroughly analyses the treaty regime applicable to gains derived from the alienation of both immovable property and shares of immovable property companies.