Tax Case Law of the Court of Justice of the European Union
� Direct Taxes, social security Law, procedural law, pending cases
Författare:
Kavelaars Peter , Pechler Edward
Titel:
Tax Case Law of the Court of Justice of the European Union � Direct Taxes, social security Law, procedural law, pending cases
Anmärkning:
Inklusive CD-rom.
Utgivningsår:
2008
Omfång:
574 sid.
Förlag:
Sdu Fiscal & Financial Publishers
ISBN:
9789064762291
Typ av verk:
Rättsfallssamling
Ämnesord:
Skatterätt , EU-rätt

---
Pris: 1237 SEK exkl. moms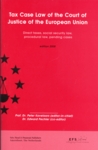 The number of tax cases brought before the European Court of Justice on the grounds of alleged inconsistencies between national legislation and Community law is growing fast. The sheer size of the judgments often makes it difficult to grasp the essence of the Court's decision at a glance. This publication aims to make things easier. It contains summaries of all ECJ judgments that have any relevance to the day to day tax practice. The summaries generally cover two pages and contain all key elements of the proceedings. The 'coordinates' of the judgments are, of course, included as well. Those who wish to read a specific judgment in full can consult the CD ROM, which contains all judgments and all related opinions of the Advocate General.

This book deals exclusively with direct taxes, social security and procedural law. Issues of indirect taxation have been left out entirely. The bulk of this book is made up of judgments relating either to personal income tax or corporation tax. The remainder concerns a variety of taxes. Finally, a separate category has been reserved for decisions exclusively relating to Directives on direct taxation.

This book contains synopsises op the European Court's major decisions given over recent years on subjects concerning direct taxes, social security law and procedural law. The full text of these cases is available on a CD-rom that comes with the book.