Titel:
COE Economic Migration, social cohesion and development � towards an integrated approach
Utgivningsår:
2009
Omfång:
192 sid.
Förlag:
Council of Europe Publishing
ISBN:
9789287165725
Ämnesord:
Offentlig rätt

---
Pris: 316 SEK exkl. moms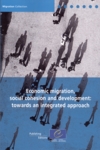 Protecting children from sexual violence - A comprehensive approach is a collection of highly readable expert papers for both child professionals and the general public. It is divided into five parts, presenting a European overview and covering the existing legal frameworks; abuse prevention and reporting; rehabilitation and social reintegration of victims; sexual violence on the Internet; and public and private partnerships against abuse. It also sheds light on the little-known problem of children who are sexually abusing other children.

In addition to providing thorough information on the many facets of this complex subject, this publication also highlights new concepts, facts and recommendations. Foremost is the significant lack of data on the prevalence and nature of sexual violence in Europe, underscoring the need for co-ordinated pan-European research and information gathering, which are vital to effective policy making and programme design. It also sounds the alarm for urgent co-ordinated action in various fields to drastically improve child protection through awareness raising; targeted and specialised training, intervention and therapy programmes; sex education in schools; responsible family attitudes; and justice systems with tighter abuse laws and which take account of children's special needs as reliable witnesses.

Protecting children from sexual violence is published as part of the Council of Europe campaign to stop sexual violence against children. The hope is that this publication will inspire judges, the police, educators, governments, the media and legislatures to join the campaign and expose, demythify and take concerted action to combat sexual violence against children, a phenomenon that affects as many as 20% of children in Europe.